Venue for EME2013 is Clarion Hotel Sign in Stockholm
It all started with the idea to create a unique, timeless, first-class hotel. By combining the best of Scandinavian architecture and design it would create a source of inspiration for the guests. A collection of icons in their areas that together would celebrate Scandinavia!
The renowned Swedish architect Gert Wingårdh, sketched his vision of an facade stooping hotel building which creates a spectcular view. Dominated by granite and glass, it leans over the square, reflecting the green park.
The interior was provided by Scandinavian design icons, such as Arne Jacobsen, Bruno Mathsson and Alvar Aalto. Wander around the hotel and discover world famous furniture, such as Egg, Wave and Lily, classic pieces that have been around for up to 50 years and will stay the same for another 50, at least. All over the hotel you will find beautiful black and white photography art by well known Scandinavian photo artists. Enjoy the art!
Click here to read more at their webpage.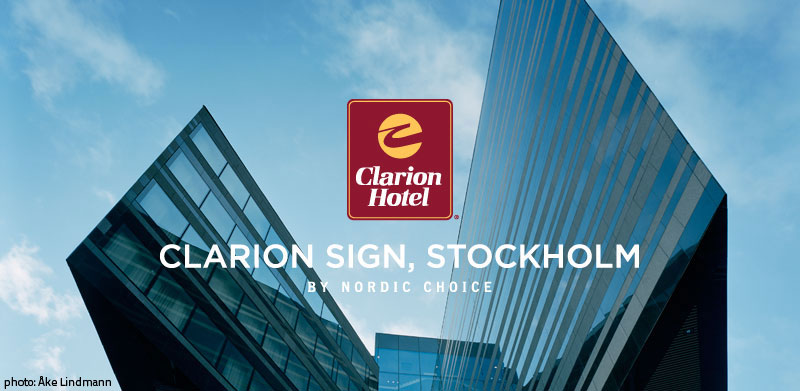 Map and other information
Below you find a map displaying the venue Clarion Hotel Sign. If you have questions regarding the hotel or would like to book a room, the contact details are:
Hotel Operator
Telephone: +46 8 676 98 00
Email: cl.sign@choice.se
Web: www.clarionsign.com
Stockholm's official visitors guide
If you would like more information on the city of Stockholm and what it has to offers, then please visist: www.visitstockholm.com/